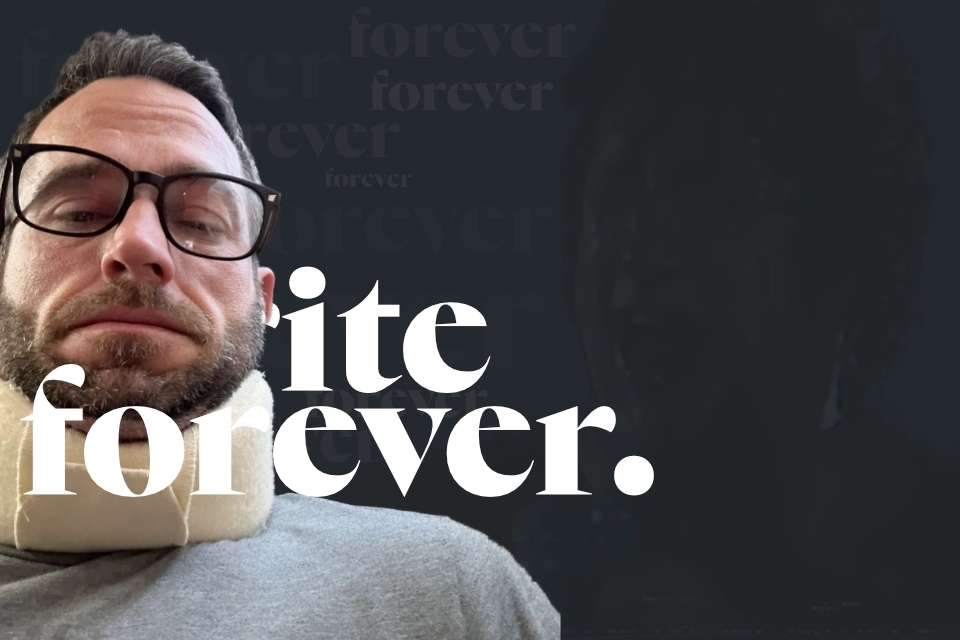 Write Forever: AEW Collision 9/9/23
This week's Collision was all about the road to Grand Slam, as Samoa Joe faced Penta El Zero Miedo and Roderick Strong squared up with Darby Allin in semi-final matches of the Grand Slam Eliminator Tournament. The winner of the final match on next week's Dynamite heads to New York to challenge MJF for the World Heavyweight Title – and both Roddy and Joe have storyline ties to the champ heading into the final which leaves things a little more unpredictable.
Open Challenge Night
Jon Moxley defended the International Title in an open challenge against Action Andretti to start the show. Kevin Kelly rambled on about how we were in "bizarro land" because the Ohio fans were cheering Ohio native Moxley.
The "bizarro land" bullshit is one of the absolute most annoying things for a commentator to drone on about. It's not bizarro land, it's fans cheering who they want to cheer – and fans cheer for faces, heels, and tweeners in every town. AEW isn't like WWE where everyone has to get one type of reaction and if they don't, they just pipe in the desired reaction.
Can we get an AEW Bizarro Land where Kevin Kelly isn't on commentary?
Mox retained against Andretti (shock of shocks), and then we went to a Roderick Strong backstage segment where he spoke about how what he really wants is to have his best friend back. Why is Adam Cole being so mean to poor Roddy and Roddy's poor neck?!
In another open challenge, Kris Statlander defended the TBS Title against Robyn Renegade. Stat retained in a short match and was then attacked by Robyn and sister Charlette after the match until – NOW HANG ON A SECOND! IT'S FUCKING JADE!
Jade Cargill made her long-awaited return laying waste to The Renegades before helping Statlander to her feet... and dropping her with Jaded before grabbing the TBS Title for a nice, long look at the title she once held. Mark Sterling joined Jade in the ring for a moment before the two made their exit, making their intentions known: Jade is gunning for the TBS Title.
I had hoped that Jade would come back with a different finisher. Really just don't like Jaded at all. I think the only person who has ever made it look good was Beth Phoenix, but I also don't know if that's more on her or the people taking the move. It just never looks all that impactful and Jade does a bunch of other cool shit that could be a finisher instead.
Backstage, Tony Schiavone sat down with Eddie Kingston and Claudio Castagnoli. Eddie laid out a challenge for Grand Slam and Claudio accepted on the condition that Eddie shake his hand in Queens. Eddie agreed, and the match sounded everything but official – Eddie vs Claudio at Grand Slam, Title vs Title.
Luchadors and Luchadors and Luchadors
Bullet Club Gold battled a luchador trio in Aerostar, Gravity, and Dios del Inframundo (formerly Drago). Not a lot to talk about in this one. The luchadors didn't exactly get a chance to shine, and it was your standard BCG Showcase. This was originally supposed to be an eight-man tag including Metalik and Jay White, but something forced a change to a trios match.
We got a pre-tape with CJ Perry talking about her surprise debut at All Out after the Miro/Hobbs beef off. She said that Miro had indeed forsaken his god and his hot, flexible wife. She referred to herself as "at one time" the coldest manager in wrestling and suggested that she may want to become that again.
The Dark Order recruitment/PSA/weirdo segments came back and the boys wanted to make sure that you support them, the good guys, and not everyone else, the bad guys.
Rey Fenix returned from his Blackpool Combat Club beatdown pre-All In to take on Angelico. Angelico was already in the ring when Fenix made his entrance which meant we didn't get the Angelico Shimmy, so Collision and Tony Khan are now on my shit list.
Fenix picked up the win in another fine match, but so far nothing on the show up to this point was remarkable in any way.
Backstage, Tony Schiavone was with FTR who wondered who their next challengers might be considering they've beaten all of the other great tag teams in the world. Dax laid out the FTR Tag Team Challenge, issuing essentially an open challenge to "any young tag team in the world" who thinks they can hang with the champs.
Night of a Thousand Backbreakers
In our first of two tournament matches of the night, we got a backstage walk-along with Roderick Strong and The Kingdom heading to the ring. As they awaited the opponent in the ring, Darby Allin skated through the backstage area on his way to the ring – until Luchasaurus appeared and grabbed a hold of Darby's throat.
The TNT Champion lifted Darby into a Torture Rack while Christian Cage told Darby he'd never be a champion of any kind again – whether that's the TNT or World Champion.
Damaged Darby eventually stumbled his way onto the ramp, cheered on by Nick Wayne, determined to not let the match end via forfeit. But what are Nick Wayne's intentions? Is he really on the side of Darby, or has he been gotten to by Christian Cage? Where was he, after all, just a few moments earlier when Darby was attacked backstage?
In any event, it was Neck Health vs Back Health as Roddy set his laser focus on Darby's taped-up back. Strong was in control for most of this, using the pre-match attack from Luchasaurus to his advantage. On the outside, Matt Taven wore Roddy's neckbrace around his arm looking like he got his arm stuck in the blood pressure machine at CVS.
After a Coffin Drop to Strong on the outside, AR Fox appeared to cheer on Darby much to the chagrin of Nick Wayne (or, as Kevin Kelly calls him "Buddy Wayne. Son."). As The Kingdom and Darby's Boys got into a scuffle on the outside, Fox went for a moonsault but caught Wayne in a misfire. In the ring, Darby went for a second Coffin Drop on a downed Roddy but only found a pair of knees in his spine. One End of Heartache later, and Roderick Strong (and his neck!) advanced to the finals of the tournament!
Post-match, Wayne tended to Darby but shoved away Fox who wanted to lend a hand as well. The trust has yet to be repaired between Wayne and Fox, and I doubt it will be before we hit the next chapter in this story.
Bryan Donaldson's Final Year
Tony Schiavone welcomed Bryan Danielson to the ring, who told us the story of his daughter whom he promised he would stop wrestling once she turned seven. Well, she's six now and time is ticking down.
"If this is my final year, this will be the most epic year of my career."
Danielson said he was ready to call his shot and that he did – laying out a challenge for Zack Sabre, Jr on October 1 at WrestleDream!
This brought out Ricky Starks (and Big Bill) who complained about sitting in catering while Danielson had a segment booked for the show. Starks talked down to Danielson until Danielson retorted by telling Starks that on Sunday, he saw what was inside of him and that he approved.
Danielson looked ready to offer Starks a spot in the BCC, but Big Bill and Starks laid waste to The American Dragon. Mox ran in for the save but Big Bill was able to drop him while Starks choked Danielson unconscious with the very BCC t-shirt just offered to him.
Joe vs The Zero Miedo
The winner here will face Roderick Strong which is almost a greater prize than a match for the World Heavyweight Title, if we're being honest.
Early in the match, Penta brought out a table from under the ring hoping to find something to help him even the odds against the larger, heavier-hitting Samoa Joe. As Joe dominated Penta the crowd chanted "Cero Miedo!" to which Kevin Kelly referred to it as "the 'no fear' chant", as one of his fears is obviously pronouncing words in Spanish.
After a few attempts at dives, Penta finally landed one on Joe causing Joe to struggle toward the side of the ring where table had been previously setup. Penta went for one dive too many as Joe casually side-stepped, causing Penta to crash through the table.
Joe dragged Penta back into the ring and while Penta did almost sneak in a Made In Penta, Joe quickly snapped it around into the Coquina Clutch for the tapout victory.
All said and done, Collision was just a fine show held up by the two tournament matches this week. The first hour was largely forgettable; nothing in it was bad, just unremarkable. There have been some insane episodes of Collision and I hope they get back to that, because the past couple of weeks have just not been hitting quite the same way.
Kevin Kelly stinks. Get him off of my TV and out of my ears!