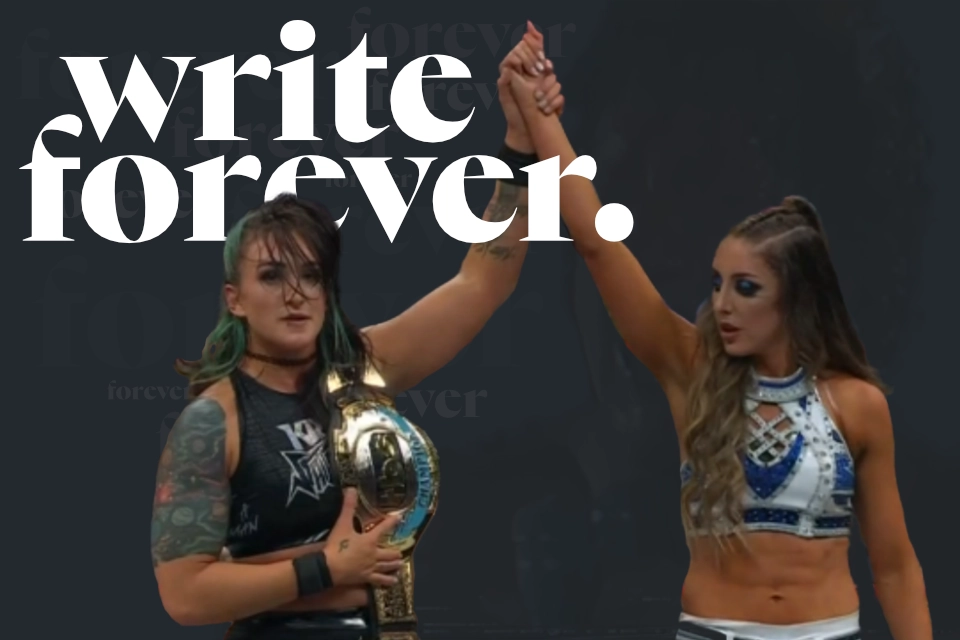 Write Forever: AEW Collision 9/16/23
Beating and/or Eating Ass
Ricky Starks and Big Bill picked up a nice little win over Bryan Danielson and Claudio Castagnoli in the show opener. Bill was coming off of a loss to Jon Moxley for the International Title on Dynamite while Starks and Danielson have had blood back to their incredible All Out strap match.
I never thought I'd be craving a singles Big Bill match, but his AEW run has truly revived him and this match has be wanting a Bill/Claudio singles match. The two of them beat the hell out of each other in this match and I think I want more of it.
Ricky redeemed his All Out loss by pinning Danielson with the Roshambo after a sneaky lil low blow behind the referee's back. Beautiful stuff here from all four guys, though I could have gone without a low blow from Ricky before the win. He's good enough to win without the shenanigans and Danielson is more than established enough to eat a loss in a competitive tag match without cheating.
I'm not sure if we're heading toward another Ricky/Danielson match where Ricky picks up a decisive win or if Ricky adds some more backup to take on the BCC at full force.
In a Tag Team Title Open Challenge match, FTR retained their titles against Iron Savages. This was short but sweet with the Savages getting a lot of shine, including Bear Bronson's new ass-eating-based offense. Iron Savages are so dynamic in the ring, especially for guys their size, and they really could catch on long-term if they were utilized a bit more often on television.
FTR picked up the win with the Power & Glory superplex/splash combo on Boulder. Post-match, FTR were approached by The Workhorsemen seemingly throwing their hats in the ring for a title match next week. The Workhorsemen have been a favorite team of mine for years going back before either popped up in AEW and, like the Savages, they could pick up a lot of steam incredibly quickly if used on TV regularly.
Redemption Arcs For Everybody!
Backstage we got, apparently, the 22nd take of a Keith Lee promo where Shane Taylor and newest member of Shane Taylor Promotions Lee Moriarty confronted "Limitless." Keith is a man alone but looks to be on a collision (heh) course with Taylor; time will tell if he, too, finds a partner to even the odds.
On the Dark Order Redemption Tour, John Silver battled one third of the Trios Champions in Anthony Bowens. This match was shortly advertised as Evil Uno vs Bowens and was changed to Silver/Bowens at some point for some reason. It is a mystery!
Silver told Bowens before the match that not only were Daddy Ass and Max Caster banned from ringside, but that he had also googled "scissoring" and that The Acclaimed have been doing it all wrong. And he's right!
Solidifying the big bad heel turn for Dark Order, Evil Uno appeared from under the ring and threw Bowens into the ring post on the outside of the ring. This allowed Silver to pick up the pin on Bowens, giving Dark Order a little bit of a much-needed boost.
Eddie Kingston delivered a promo via pre-tape and I don't have anything to say about it other than it was beautiful and perfect and Eddie Kingston deserves everything good in the world. Watch it for yourself.
Orange Cassidy, still reeling from his International Title loss, and Hook ate Doritos together and decided to team up at Grand Slam. The promo was probably about 6 words long. Not as emotionally impactful as Eddie's promo, but perfect nonetheless!
Aussie Open picked up a win in a quick squash on their way back to tag team gold. The Oi Oi Bois called out MJF & Adam Cole on last night's Rampage and tonight they set their mark on FTR. Tonight, Kyle Fletcher made the challenge much more concrete – whether FTR are the AEW Tag Team Champions or not by the time October 1 rolls around, Aussie Open want FTR at WrestleDream.
In a pre-tape, Toni Storm sat down with RJ City in her shaken Hollywood starlet role. She's got Saraya this Wednesday at Dynamite Grand Slam for the Women's Championship but deflected most of RJ's questions to complain about the lighting on set, the lamps on set, and the business itself.
Returning from back-to-back injuries, Scorpio Sky went head to head with Andrade El Idolo (not "Andre El Idiolo" as Kevin Kelly would have you believe). During picture-in-picture, I was reminded that we still had The Hardys vs The Righteous to come tonight which is like a computer generated the exact opposite of a match I'd actually like to see.
I'm always going to love Scorpio Sky. I have fond memories of watching him at Wrestle Circus in Austin, Texas just being one of hte best parts of the show. The "Scorpio Sky is the best! (clap clap) Scorpio Sky is the best!" chant will always ring out in my head when watching him.
After a hard-hitting match with great efforts from both guys, Andrade picked up the win with the Figure Eight submission. As he offered a hand to Scorpio to help him to his feet, Jay White and The Bang Bang Gang made their way out onto the ramp!
Jay introduced all members of Bullet Club Gold, including Cardblade, with nicknames except for the as-of-yet un-nicknamed Austin Gunn. Switchblade told Andrade that he didn't appreciate him watching his boys last week on Collision and laid out a challenge for a match between the two next week.
Main Event Stat
The Hardys wrestled The Righteous and The Righteous won. Post-match, The Righteous talked about the devil and whatever and called out MJF & Adam Cole.
Hey, next week RVD is back for some reason! His match with Jack Perry was pretty fun so why not give him a little bit of a run in AEW?
Before the main event, we got a handful of informative video packages building to Grand Slam and WrestleDream. I can't wait for Danielson/ZSJ, but I do hope they pull off a better match than, what I felt was, the disappointing Danielson/Okada match at Forbidden Door. Not that the match was outright bad, it just didn't feel like they clicked and everything just felt "fine" at best.
Backstage, Ricky Starks (with Big Bill) complained that video packages were airing for Bryan Danielson, a guy he just beat, but Starks doesn't have any match for WrestleDream. Starks said he was going to put an end to Danielson by going to lengths next week that he hadn't gone to in a while – a Texas Death Match. Inject it into my fucking veins.
Hometown(ish) hero Britt Baker challenged Kris Statlander for the TBS Title in Collision's first-ever women's main event. Stat is coming off of a big victory over Jade Cargill on Rampage which may have foretold the end of Jade Cargill's run in AEW. Britt is coming off of eating the pin in several matches over the past few months.
The big story told here was the condition of Statlander's knees. She sold an awkward landing early on which gave Britt the chance to focus on them later in the match. Stat looked to be ready to put Britt away with Saturday Night Fever but Britt escaped, landing a Pittsburgh Sunrise before twirling twirling twirling towards the sun into a modified Lockjaw on a standing champion.
Britt wore Stat down to the mat and applied the hold proper, but Stat was able to roll it back and cradle the challenger for the three-count and victory to close things out! A decent match but Stat has definitely had better recently (including last night's defense against Jade), and I'm still not in the Britt camp.
Britt's in-ring work hasn't been super great for a while, but I do appreciate how we've been able to move past her being the focal point of every part of the women's division. She was verging into "shoved down throats" territory after a while, which sort of makes her getting any kind of title shot now some sort of meta storyline in itself because it's easy to imagine AEW throwing another belt at her.
On the contrary, though, she's been falling to the back of the pack for the most part and even when she has been involved in something involving the World Title it's been in multi-person scenarios with Britt taking the fall more often than not. Eventually she'll need to start racking up wins and doing something if they want to make her a serious contender again, but I'm hoping the in-ring stuff improves before we get there.
Post-match, we got a shot of Julia Hart watching on – a sign of things to come in Stat's near future?
Kevin Kelly stinks. Get him off of my TV and out of my ears!