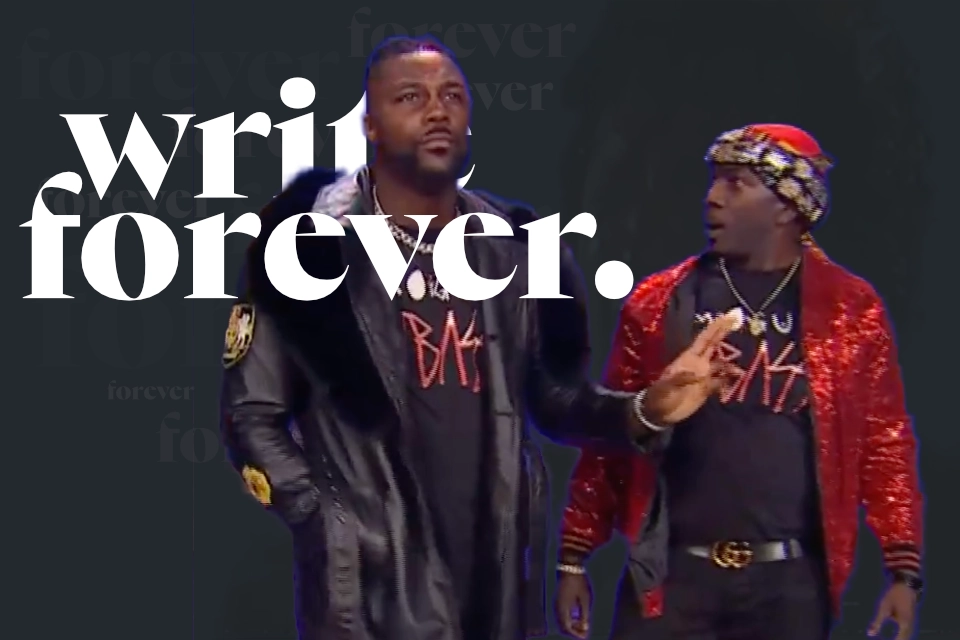 Write Forever: AEW Dynamite 9/27/23
Are you ready to light the fuse on a fever dream episode of Dynamite? Up until around 7pm ET, I think the only matches announced were a 4-way preview of a 4-way tag team match at WrestleDream and Willow/Julia. In the run-up to the show, we got a Fenix/Jeff Jarrett International Title Match announcement as well as a Nick Jackson/Brian Cage/Claudio Castagnoli three-way for an International Title Match next week.
This feels like it has the makings of one of those weird Dynamites where nothing was really planned in advance or a bunch of people are injured or something, but then it somehow ends up being incredible. Will this episode have the secret formula?
85-Time Champion, Jeff Jarrett
BREE WOO BREE WOO BREE WOO WOO BREE WOO WOO
I was just watching Jeff Jarrett have to cheat to beat Doink on a Coliseum Home Video release from around 1994 or so and now he's here challenging Rey Fenix for the International Title. Fenix is also apparently injured coming out of the International Title Match with Mox in which Mox suffered a concussion.
Part-way through the match, Fenix began favoring his leg. Expert selling knowing that people are clued in to his injury or actual re-aggravation? The jury's out!
Despite the leg injury, real or imaginary, Fenix countered an attempted figure four leglock into a small package for the victory and successful first defense of the International Title.
From one leg injury to another, we got a vignette with MJF and Adam Cole on MJF's boat in Long Island. In this week's Lesson on Friendship, Cole told MJF that it was normal and healthy for someone to have more than one friend mere moments after MJF was, I think, about to try attempted murder on Cole for continuing to be friends with Roderick Strong.
In the end, the Bay Bay Boys hooked Captain Insano and the three shared some beers. Not a sentence I figured I'd ever type out, but this was a possible confirmation that we were in Fever Dream vicinity for Dynamite tonight.
Family. Family. Family. Family. Family. Family.
Like 10 Vin Diesels, Don Callis and The Don Callis Family (Family Family Family Family) were here to build toward the WrestleDream battle of The Family against Omega, Jericho, and Ibushi.
In a video straight from Japan, Callis and Takeshita invaded Ibushi's gym and clobbered him in the skull with a kettle bell. Another attempted murder! This made two attempted murders on the show tonight for all of those counting along at home.
There was nothing of note in the promo itself other than a lot of booing and the aforementioned video, and I'm not exactly sure if this means Ibushi won't actually be at WrestleDream or not.
We got a quick backstage promo with Ricky Starks saying he didn't lose on Collision, he survived. But he did lose. Ricky needs some big wins. Cue Wheeler Yuta who laid out the challenge for WrestleDream. Ricky walked off but Tony Khan made it official; I imagine this is the Starks bounce-back match so he doesn't continue to eat losses despite looking incredible on TV every week.
In a fun and weird three-way match, Nick Jackson came out with the win over Claudio and Cage. This was essentially a Claudio/Cage muscle showcase with each guy doing all of their cool muscle boy moves. I was pulling for Cage in this one because I feel like he goes a little under-appreciated at times, and I know he can have a banger of a match with Fenix.
Of course, Nick and Fenix will also have a hell of a match. Nick snuck out the win here after Claudio dropped Cage with a Ricola Bomb; Nick disposed of Claudio to the outside and stole the pin in classic three-way fashion. It's a bit of a tired trope at this point, but it kind of worked better here because it was Nick's unmatched agility that caught the stronger competitors off guard allowing him to eke out the victory.
Bay Bay Boys
In news that isn't news to anybody, Adam Cole announced that he injured his ankle last week by leaping off of the ramp at Grand Slam. He said that he broke his ankle in three places and tore ligaments which sucks pretty hard, especially doing something so simple. Cole will be heading into surgery and because they can't defend the titles, Cole says they'll need to relinquish the belts – before being cut off by MJF.
MJF said he's not cool with this at all and instead vows to defend the ROH Tag Team Titles against The Righteous in a handicap match at WrestleDream. This brought out Roderick Strong, STILL IN HOSPITAL GOWN, bellowing "ADDDDAAAAAMMMMM" as The Kingdom pushed him out onto the stage in his "HOT RODDY" wheelchair.
Showing actual human growth, MJF told Cole to go and deal with his friend Roddy and that he'd be waiting for him when he got back. Cole joined Roddy & Company before KING SWITCH JAY WHITE made his presence known!
SHIT! Are we getting Jay White challenging for the AEW World Heavyweight Title?!
The crowd chanted for both guys but it's clear that Jay White is the better guy considering he has 4 friends to MJF's 1 friend – 5 if you count Cardblade. During this promo-off, the crowd chanted for such things as "weed", "pubic hair", and "tofu" which seems like a first in pro-wrestling.
After getting under the skin of the World Heavyweight Champion, Jay hit the bricks before coming to blows with MJF. It looks like we're going to have MJF vs Jay White somewhere down the road, though not as soon as WrestleDream on Sunday. Let's all each put a little wish token in our wish jars that our next AEW World Heavyweight Champion is "Switchblade" Jay White.
In a hot little backstage pre-tape, Christian Cage and Darby Allin sat down with Jim Ross to build toward their two out of three falls match for the TNT Title at WrestleDream. Christian has now added Dead Uncles to his hit list, calling back to Darby's deceased uncle whose drunk driving inspired the challenger's skeleton body paint.
It's nice to see growth from everybody on this show - first MJF growing to allow his friend to have a friend and now Christian extending his hate of dead relatives from just fathers to brothers of fathers. AEW continues to be a company who tells beautiful stories about family and friendship.
Multiple Matches With Multiples of Participants
The four-way match between Matt Jackson/Austin Gunn/Penta/Orange Cassidy happened and my sleeping dog kept farting the entire time. I don't think it colored my opinion of the match at all but it felt worth mentioning, if for no other reason than to paint you an accurate picture of the glamorous life of a guy who writes about pro-wrestling. The farts did smell.
This match was fun! And fine! I don't know, something about it just didn't grab me emotionally at all. Lots of guys doing their taunts and then spamming moves on everybody. Austin Gunn almost spiked himself on the back of his head giving a Fameasser to Orange Cassidy, a thing I don't think I've ever seen happen before.
After a scramble of moves being hit, Orange Cassidy dropped Matt Jackson with an Orange Punch to pick up the win on one half of the Young Bucks! This gives Orange Hook the mental advantage heading into WrestleDream where they'll face The Bucks, The Gunns, and Lucha Brothers. Or at least, this is what a lifetime of watching professional wrestling has taught me to think.
laa laa laa something something laa laa laa something something laa laa laa the house always wins
In the sort-of main event, polar opposites Julia Hart and Willow Nightingale went head to head. Willow came out with one eye bandaged up after supposedly being misted backstage by Julia Hart during Collision on Saturday night. Will Willow have some sort of cool contact lens or makeup under that bandage?!
Minutes into the match, Julia ripped the bandage off and it was confirmed – Willow did have some sort of cool makeup under that bandage! I love the idea that House of Black mist somehow poisons the skin of the victim causing some weird caustic bruising. It's a nice addition to the storied Lore of Mist in professional wrestling.
Both of these women kick ass and the crowd knew it, breaking out in dueling chants multiple times during the match. The AEW women's division is far from perfect, but when you build some characters, give them motivations, and then let them just go out and have a cool match it can really do wonders. It's not that hard!
In the end, Willow slammed Julia in the corner and tied her up in the Tree of Woe. Willow drew from Brody King and barked out as she stomped around the ring. Launching in for a cannon ball, Willow crashed and burned as Julia pulled herself out of the way. With an absolutely picture perfect moonsault, Julia picked up the pin on Willow heading into her TBS TItle Match with Kris Statlander on Sunday night. Hell of a finish to a super fun match.
NO DANCING ALLOWED
The biggest travesty of the show occurred in the main event slot as Swerve Strickland made his entrance for the contract signing with Hangman Page. Just as the beat was about to hit signalling Prince Nana's dance, Swerve shut down the dancing and walked to the ring alone. Robbed. ROBBED of watching Prince Nana do the Swerve Dance!
Renee reminded both men that The Elite and Mogul Embassy were banned from ringside, so obviously nothing bad would happen in this segment and there would be no physicality. None!
Swerve told Hangman that they're nothing alike and never will be; that a Buckshot is nothing compared to a Killshot.
Hangman talked about the little black rain cloud that hung over his head for months, weathering the storm and staying strong through his battle through bad weather. This is certainly not vaguely about CM Punk!
After trading verbal barbs back and forth, Swerve slapped Hangman across the face and signed the contract – only to have Ol Hanger stab him in the hand with a pen before security rushed in to pull them apart.
Just before going off air, we cut to the back where a group of dudes in black bodysuits and masks were beating the ever-loving piss out of Jay White. The Impact/NXT Parking Lot Ninjas invaded AEW and they all looked so lanky and unimpressive. Give me a beefy backstage ninja!
They threw Switchblade into a wall and the camera panned up to reveal, presumably, MJF in his Devil mask to end the show. Is MJF... mean?? And bad?!
A weird little segment to end a pretty good episode of Dynamite! Nothing here that set my little heart aflutter, but an enjoyable two hours of professional wrestling television heading into Sunday's WrestleDream.