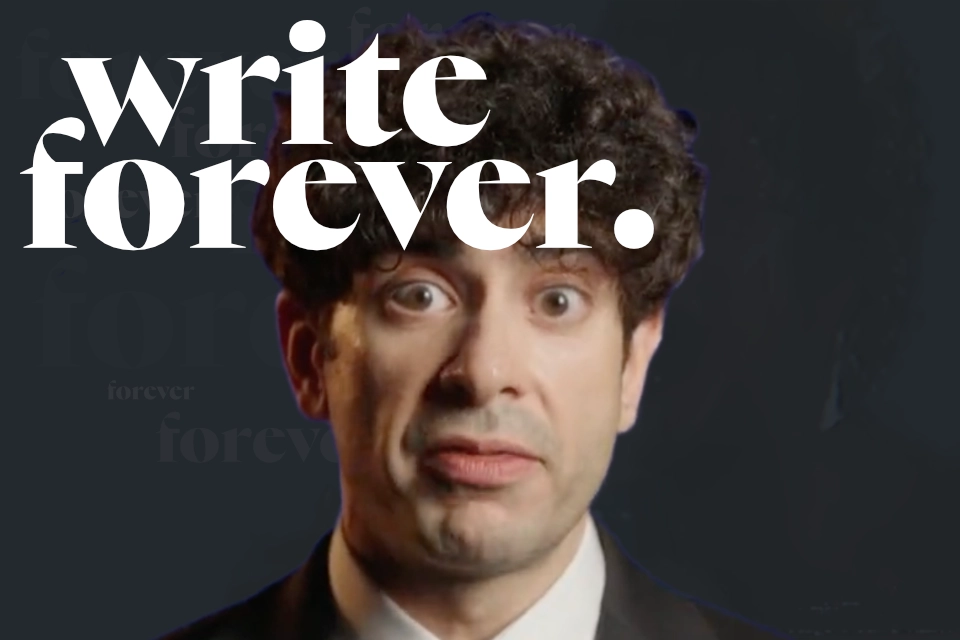 Write Forever: AEW Collision 9/2/23
Took a little vacation this past week – did I miss anything?
Thousand-yard stare Tony Khan opens the show to let us know he did the thing he had to do in order to save his own life: fire Phil Brooks.
I'll be honest, I'm equal parts surprised and not surprised that it happened. Brawl Out was an absolute shit show, made worse by the fact that Big Biceps Tony sat right next to CM Punk while he unleashed a verbal tirade on the EVPs, the company, and anyone else who wanted to catch a stray shot.
I don't know that a truer tweet was ever tweeted than when Ryan Nemeth tweeted that CM Punk was "the softest man alive". The dude loves to run his mouth, shit on everyone around him, make terrible decisions and expects everybody to just have to deal with it and accept it. When the shoe is on the other foot, though, and someone lobs the softest of softballs ("this is real glass – cry me a river"), he can't handle it and absolutely loses his mind.
He's wrestling's true dope, the biggest pissbaby narcissist who was handed as much as could be handed to him in AEW and still wasn't happy. I loved CM Punk for a long, long time but he really soured himself in the last several years even before his AEW run. It's a bummer it had to end this way, but good riddance.
In the ring, Ricky Stars delivers an impassioned promo that is obviously not just about wrestling matches. I think the assumption would be that he was meant to face Punk at All Out but has now had that match ripped away from him. Instead, he'll head into the ring against The Dragon – The American Dragon Bryan Danielson.
A fun segment with two Rickies and a pretty predictable outcome, but still fun to see it all play out nonetheless. I will love Ricky Starks forever. Also, what the fuck is Danielson made out of that he's back from a broken arm already? The dude is unreal.
Jon Moxley cuts a backstage promo for his upcoming match with Orange Cassidy for the International Title at All Out. Really good stuff here from Mox who put OC over really well, talking about how he's shut down all of the people who referred to him as a "cosplay wrestler" by highlighting the fact that he's the most successfully defending champion in wrestling ("did any of them become the winningest champion in pro wrestling?").
The Acclaimed successfully defend their new pink Trios Titles against 2point0 and Daniel Garcia, another predictable outcome that was fun enough getting there. I'm not the biggest fan of The Acclaimed upending House of Black but I hope Malakai and the creep crew move into something cool and interesting sooner than later. Brody King should be World Heavyweight Champion next year; he's just an absolute beast and kills it every time he's in the ring.
Aussie Open get back into the swing of things with a victory over the ramshackle team of Nick Wayne and Kommander. Another solid Collision bout with a nice ending giving Wayne a chance to shine against the double-teaming of Aussie Open before succumbing and eating the pin.
Post-match, Nick Wayne is in the ring with Tony Schiavone and questions why Darby Allin has forgiven AR Fox for committing a home invasion, bloodying Nick in his own garage, and stealing his tank top.
Darby comes to the ring to set things straight, laying the backstory of a rocky background between himself and Buddy Wayne, Nick's father. Before Darby could make things right, Buddy passed away. Darby uses this as the reasoning for his quick forgiveness of AR Fox and tells Nick that he doesn't need to forgive him too, but to just try and move on.
Darby asks Nick to be in his corner for his match against Luchasaurus tomorrow night at All Out which prompts Christian Cage and the TNT Champion Luchasaurus to step onto the stage. Christian starts right in where he left off – he apologizes for talking so much about Nick's father when he should have asked what his mother's name was. Christian is on a spree of beating up fatherless twenty-somethings and hitting on their mothers and it's beautiful.
I don't know if it's going to happen, but are we planting the seeds for Nick turning on Darby tomorrow night for an opportunity to sit under the learning tree of Christian Cage and get himself a new father in the process?
Backstage, Claudio Castagnoli beats up Wheeler Yuta to show how unlike Eddie Kingston he is – because when Yuta gets beat down, he gets back up. Eddie and Shibata rebut with classic Eddie saltiness and Shibata delivering a single line via Google translate: "you both suck".
It's promo fever the night before All Out! Saraya, the new AEW Women's World Champion (ugh) is alongside Ruby Soho before their trios match with Toni Storm against Hikaru Shida, Kris Statlander, and Britt Baker later tonight. Two-thirds of the group insist that things are, and will continue to be, fine between The Outcasts.
The fever lives on! Tony Schiavone is in the ring and brings out Dennis Rodman for some fucking reason.
NEVER MIND THAT SHIT, HERE COMES DOUBLE J
Jarrett and company come out and Jeff sings the praises of Rodzilla and all of his stablemates, telling Rodman how each and every member of the group is just like him. Jarrett is trying to lay the groundwork to add Rodman to the group, complete with Sanjay in a new t-shirt that includes a drawing of Rodman alongside drawings of the rest of the group.
Rodman eventually lays hands on Sanjay, but before the others can jump him The Acclaimed make their second appearance of the night to save the day. Daddy Ass lays out the champion's challenge to face Jarrett & Company at All Out with Rodman in their corner. Daddy Ass, for what it's worth, looks as tall as Rodman which is just kind of insane. He's so deceptively huge.
It's a Shane Taylor highlight reel and a Samoa Joe promo ahead of their match for the ROH TV Title tomorrow night on what may be the episode of AEW TV with the least amount of actual wrestling in history.
Back to wrestling with The Outcasts vs Shida, Stat, and Britt. It's a fine match with the bulk of the work being done by the better thirds of each side with, thankfully, limited time from Britt and Saraya. The end comes with Outcasts shenanigans with Saraya blinding Britt with the spray paint to allow for Ruby to pick up the win. There's just a slight miscommunication between The Outcasts with Toni landing an errant elbow drop on Saraya in an attempt to break up a pin, continuing to sow the seeds of dissension within the group.
Adam Cole reads a text message from MJF about Dark Order. Compelling stuff.
Powerhouse Hobbs beats GPA in like 9 seconds and, my god, I really thought GPA had it here. Miro runs out post-match and the two beef boys beef off in the ring with Miro getting the slight upperhand before their match tomorrow night.
Orange Cassidy is backstage with a promo in which is also raises up his opponent, Jon Moxley, ahead of their International Title Match. OC suggests that Mox is simply the best and was the guy who lifted AEW up out of its darkest times and put the weight on his back. Sunday night, Orange Cassidy looks to take that weight off of Mox permanently – and put it onto his own.
All Out is a bit of a weird PPV and I don't love the double-PPVs back to back but I think the OC/Mox main event could be a hell of a thing. Fingers crossed OC pulls it out and eventually drops the belt to someone like Swerve Strickland who could really use a big win and a jolt to his singles run.
It's main event time with Jay White taking on Singles Superstar Dax Harwood who must really be feeling some feelings tonight. I didn't sit and write a ton about this match as it was happening because I just wanted to watch it. It's Dax and Jay so you're going to get, at a minimum, a very good match. And that's what it was!
I'll always and forever hate the amount of snot and spit that gets stuck in Jay White's facial hair. It's maybe one of the grossest things in pro wrestling today. Jay White remains one of the most protected guys in AEW by dropping Dax with a Bladerunner on the floor then again in the ring to pin one half of the AEW Tag Team Champions!
Bullet Club Gold (sans Cardblade) celebrate in the ring and begin to circle Cash Wheeler before... wait for it... the Young Bucks make their Collision debut and save the day! The crowd shower the Bucks in boos while a brief CM Punk chat kicks up some dust, though it quickly fades.
The Bucks offer a handshake to FTR, mirroring the Wembley post-match, and FTR return the favor to the Bucks by leaving the ring without shaking hands. No problem – Matt and Nick shake each others hands and the uneasy teammates stare at each other across the arena as Collision comes to an end.
Definitely a bit of a mixed bag of Collision, but to be expected when you're in the hard sell for a pay-per-view the following night. I guess this gives us a glimpse of what the Saturday go-home shows will look like in the future: a little bit of wrestling and a lot of promos and informative video packages.
Kevin Kelly stinks. Get him off of my TV and out of my ears!